Welcome to NOW Sonoma
Our President's Message
May 2022 News
NOW Sonoma members raising their voices
Women Unite Now!
Dear NOW friends,
The horrifying news of the leaked Supreme Court brief to overturn Roe v. Wade is upon us and nationwide protests are occurring as you are reading this newsletter. We all need to take immediate action or we will lose the right to choose what happens to our bodies. This will affect all future generations, too! At our next meeting, on May 16th, we will plan our chapter's own action to fight this. Bring your ideas!
Join us on Zoom, Monday, May 16
7:00 p.m.
https://us02web.zoom.us/j/82846374496?pwd=WlA0cE5CaFczUUtqa1Nkc2tYQXkydz09
Meeting ID: 828 4637 4496 Passcode: 035853
We held one protest in Sebastopol on May 3rd and there will be more! However, since we are such a small group, the best way may be to partner with other organizations, such as the NAACP, the Democratic Club, etc. In the meantime, see below for actions you can take from your own homes. We must not let the Supreme Court remove our right to choose!
Women's March organization has proclaimed May 14 as the day they have arranged a nationwide march. According to their website, "In partnership with Planned Parenthood Federation of America, Ultraviolet, and MoveOn, we will mobilize on May 14, 2022 and let the world know we will not take this attack on our rights silently. " Click this link to pledge to participate.

I've copied in what our National organization sent to the chapter leaders following their call to mobilization on May 3.

***********************************************
THE WAR ON WOMEN:
Banning abortion has nothing to do with protecting and everything to do with controlling women's autonomy. Overturning Roe violates a woman's Constitutional rights

The majority of the country has long supported abortion rights, proving that the forced-birth movement is nothing more than a well-financed political distraction perpetrated by right-wing extremists.

Outlawing abortion won't stop abortions - it just stops safe abortions for the most vulnerable women.

This decision proves the utter disrespect the justices on the right have for judicial precedent, despite testifying under oath not to let their personal beliefs conflict with their oath to uphold the Constitution. Overturning Roe is a clear dereliction of duty.
WHAT'S AT STAKE:
Privacy, individual dignity, and access to safe reproductive health care for all are the values at stake with this decision. The conservative ideologues on the Supreme Court are willing to erase these vital protections that are essential in a democracy – if they overturn Roe.

Overturning Roe will legitimize and escalate the culture war radical conservatives are waging. If they win, they will set their sights on blocking access to contraceptives, marriage equality, affirmative action, and more.
WHAT CAN BE DONE:
The Supreme Court must be reformed so that can no longer be captured by reckless right-wingers – answerable to no one.

We must pass the Women's Health Protection Act, putting Roe protections in federal statutes. The House of Representatives has already passed the Women's Health Protection Act – we are awaiting Senate action where there are at least 52 votes in favor of this vital legislation.

More than a dozen states have adopted laws that protect access to abortion with several more considering similar legislation.
WHAT YOU MUST DO:
Other news:
We have a YouTube channel! Thanks to our Webmaster, Ken Norton, we have a new channel and on it are videos of the recent forum we held with the candidates for Superintendent of Schools as well as the panel we hosted last August of well-known leaders in the county. The link to our channel is: https://studio.youtube.com/channel/UCIgTr7_29T8COX2MNul_Q8g . We will be uploading other videos soon, so be sure to subscribe to the NOW Sonoma County Chapter.
----
Don't forget to vote! Mail-in ballots are in the process of being sent to each registered voter. To register, go to RegistertoVote.ca.gov and for information on the measures/candidates, go to the Registrar of Voters website for the June election.
----
Special announcement: Our treasurer and former president, Elaine B. Holtz, who is also the co-producer and host of Women's Spaces radio show, has been nominated for the 12th Poet Laureate of Sonoma County. Nominations for Poet Laureate require that the poet be a resident of Sonoma County whose poetry manifests a high degree of excellence and who has produced a critically acclaimed body of work.
The nominee must also have demonstrated an active commitment to the literary arts in Sonoma County, must propose and perform a project of their own creation, and must agree to participate in official ceremonies and poetry events.The selection of the Poet Laureate for our county will be announced on July 1st. For additional information on the process for selection and timelines, go to https://www.sebarts.org/poet-laureate/
"This is truly an honor to be nominated," said Elaine. She has read many of her poems on Women's Spaces. You can listen to Elaine live on Mondays at 11 PM and replayed at 11:00 AM on KBBF 89.1 FM, or stream them on www.kbbf.org. All shows are archived on www.womensspaces.com. For additional information, email Elaine at elainebholtz@gmail.com.
--Amy Nykamp
.
----
Our proud Chapter!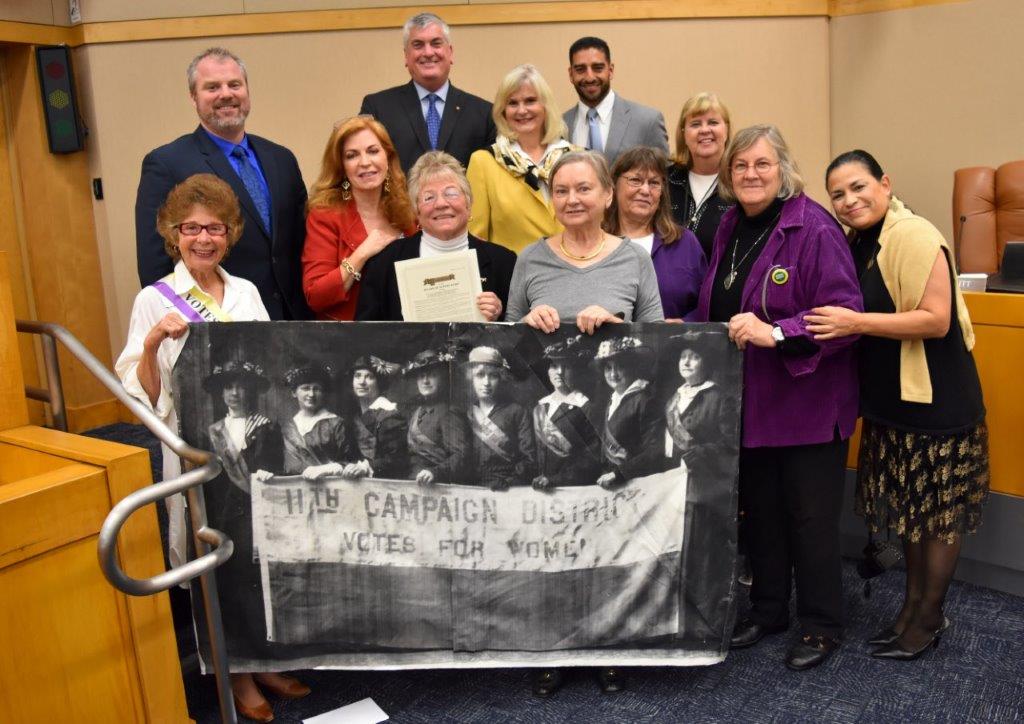 Above: Our Chapter celebrating the 50th Anniversary of NOW with the Sonoma County Board of Supervisors, October 2016.
----
August 26, 2020, the 19th Amendment Centennial and Women's Equality Day was celebrated in Sebastopol with the Women's Suffrage Banners.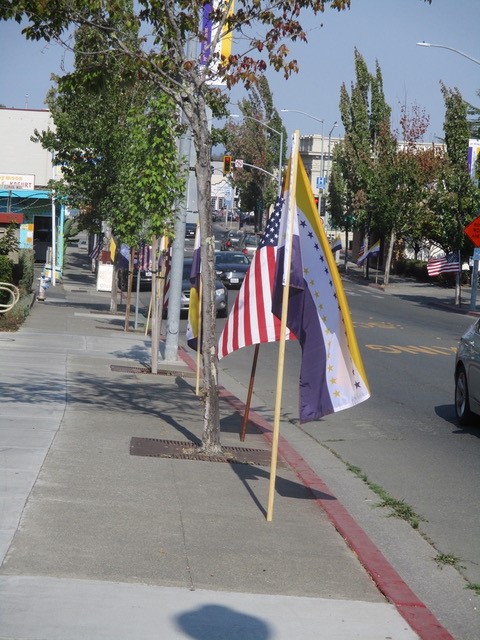 ----
The 2020 Rose Parade featured the We Heart float commemorating the Women's Suffrage Centennial and won the Theme Trophy. See video clip below for the passage of the float and the Women Suffragist marchers in front of KTLA cameras January 1, 2020.
----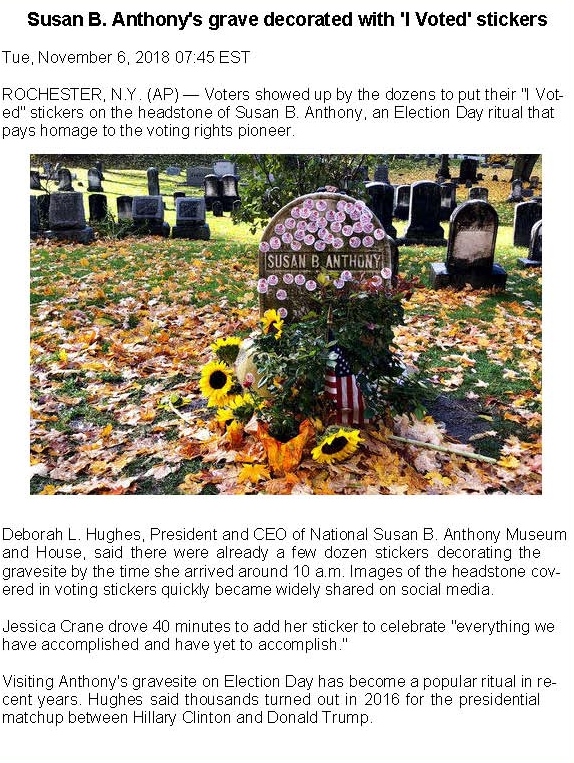 Let's Meet!
Monthly Meetings are on the 3rd Monday of every month, 7:00 - 8:30pm. See Events page for details.
----
LINKS: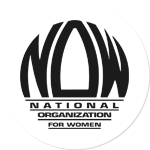 National NOW website
----